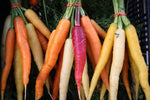 Ginger Pickled Carrot Lentil Salad with Spiced Prunes & Dukkah 1 C green lentils, soaked for 8 hours or overnight if possible ½ t salt Dressing:3 T olive oil ¼ C lemon juice 2 t ground cumin 1 t ground cinnamon ¼ t ground coriander ¼ t paprika 2 pinches salt Salad:1 head lettuce ¼ C mint leaves, roughly chopped½ C chopped, pitted prunes 3 T dukkah, recipe below Ginger-pickled carrots  5 carrots 1 C apple cider vinegar 1 C water 1 T maple syrup 1 ½ t salt Small knob fresh ginger (about 10 g), peeled and sliced--- Make...
---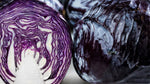 Coconut- Quinoa Coleslaw with Minty Tahini Dressing ½ C quinoa, rinsed 1 C water ¼ t salt Dressing: ½ C tahini ¼ C lime juice 2 T olive oil 1 T maple syrup ¾ C water Salt 1 C packed mint leaves  Veggies:  2 C each, red cabbage, green cabbage, and kale, shredded 3 carrots, sliced finely 1 red pepper, sliced finely or sub 1 cucumber ¼ C lemon juice1 T olive oil ¼ t salt 1 C unsweetened, desiccated coconut --- Make the quinoa: combine the quinoa, water, and slat in a small sauce pan. Bring to a boil,...
---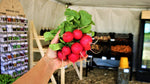 Tomato salsa not your thing? Try this crunchy and fresh radish and cilantro salsa at your next BBQ or picninc. It won't disappoint!