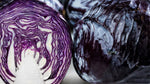 Coconut- Quinoa Coleslaw with Minty Tahini Dressing

½ C quinoa, rinsed
1 C water
¼ t salt

Dressing:
½ C tahini
¼ C lime juice
2 T olive oil
1 T maple syrup
¾ C water
Salt
1 C packed mint leaves 
Veggies:
2 C each, red cabbage, green cabbage, and kale, shredded
3 carrots, sliced finely
1 red pepper, sliced finely or sub 1 cucumber
¼ C lemon juice
1 T olive oil
¼ t salt
1 C unsweetened, desiccated coconut
---

Make the quinoa: combine the quinoa, water, and slat in a small sauce pan. Bring to a boil, reduce the heat ot low, and cook, covered, until all the water has been absorbed and the quinoa grains are tender, about 20 minutes, Fluff with a fork.

Make the dressing: combine all the ingredients in a blender and blend until smooth and creamy. 

In a large bowl, combine the cabbage, kale, carrot and bell pepper. Whisk together the lemon juice, oil, and salt and add toss with the veggies, lightly massaging the liquid into the kale and cabbage. Let marinate for 5-10 minutes. 

Toast the coconut in a dry skillet preheated over medium heat. Stir often and toast until golden brown and fragrant, 2-3 mins. 

Add the quinoa and coconut to the vegetables and toss to combine. Serve with the dressing. 


Sarah Britton - Naturally Nourished