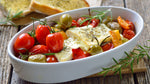 This recipe is as simple as it is delicious. Just toss everything in a pan and roast until warm, soft and gooey. Serve with bread or crackers as an appetizer, or spoon on top of pasta for a decadent sauce.
Baked Feta with Olives, Peppers, and Tomatoes
1 C cherry tomatoes, quartered
½ red pepper, chopped
⅓ C kalamata olives, pitted and roughly chopped
2 t dried oregano
Salt and pepper
200 g/7 oz block feta
Olive oil
Fresh parsley
Bread or pita
---

Preheat oven to 400.

Toss tomatoes, red pepper, and olives with oregano, salt and pepper. 
Place feta in an oven proof dish and top with veggie mixture. Bake 20-25 mins until veggies are roasted and cheese  is soft.


To serve, drizzle with olive oil and top with parsley. Eat with crusty bread or pita to soak up all the delicious juices and flavours!
Naturally Nourished - Sarah Britton