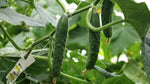 We like to eat the rainbw here at Ottawa Farm Fresh, but sometimes a monochrome meal can be just as beautiful as a multicoloured one! This all green salad is super refreshing, super simple, and super delicious!
Emerald City Salad 
2 ripe avocados 
½ C mint leaves, rolled and sliced into ribbons
1 cucumber, cut lengthwise into ribbons
1 lime, juiced
1 T olive oil
½ t red pepper flakes
Salt 
---
Cut the avocado into rings by slicing it crosswise and around the pit into ¼ inch rings. Peel off the skin and place the rings onto a serving platter. 

Layer on the cucumbers, drizzle with lime juice and olive oil, and sprinkle with pepper flakes, mint, and sea salt. Serve immediately.
 
Sarah Britton - Naturally Nourished