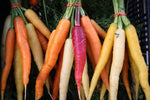 Ginger Pickled Carrot Lentil Salad with Spiced Prunes & Dukkah
1 C green lentils, soaked for 8 hours or overnight if possible
½ t salt

Dressing:
3 T olive oil
¼ C lemon juice
2 t ground cumin
1 t ground cinnamon
¼ t ground coriander
¼ t paprika
2 pinches salt

Salad:
1 head lettuce
¼ C mint leaves, roughly chopped
½ C chopped, pitted prunes
3 T dukkah, recipe below

Ginger-pickled carrots 
5 carrots
1 C apple cider vinegar
1 C water
1 T maple syrup
1 ½ t salt
Small knob fresh ginger (about 10 g), peeled and sliced
---

Make the ginger pickled carrots: use a peeler to slice the carrots lengthwise into long, thin ribbons. Place into a 1- quart glass container.

Combine the vinegar, water, maple syrup , salt and ginger in a measuring cup and stir to dissolve the salt. Pour the brine over the carrots to cover completely. Seal and refrigerate for at least 30 minutes, ideally for 24 hours. They will keep up to 3 weeks in the fridge.

Lentils: cover the lentils with 3 C of water and bring to a boil over high heat. Reduce heat to low and simmer, covered, until tender but not mushy, 10-20 minutes. Add the salt after 5 minutes. Drain and lightly rinse.

Make the dressing: whisk together all the ingredients and pour half over the lentils while they are still warm, fold to coat.

Separate the lettuce leaves and place in a large bowl. Top with lentils, pickled carrots, prunes and dukkah, Drizzle the remaining dressing over the top and season with flaky salt and mint leaves.

*Dukkah: Roast 1 cup raw hazelnuts at 325 for 20-30 min. When cool, rub together to remove skins and add to a food processor. Add 1 T coriander seeds and 1 ½ t cumin seeds to a dry, preheated skillet over medium heat.Stir often until fragrant, 2 mins. Remove, let cool, and grind  with 1 T black peppercorns in a mortar and pestle or coffee grinder. Toast ½ C sesame seeds in the same skillet until fragrant and they begin to pop, about 2 mins. Add sesame seeds to the hazelnuts and process until chunky-sand-like consistency. Add ground spices and 1 t salt to hazelnut-sesame and pulse once more to combine.  
Sarah Britton - Naturally Nourished