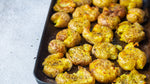 Smash-'Em-Up Salt & Vinegar Potatoes

1.5 lbs baby potatoes
1 ¼ c white vinegar
2 t salt
3 T olive oil
Sea salt, for sprinkling
---
Preheat the oven to 450 degrees. 
Add potatoes, 1 cup of the vinegar and salt to a saucepan. Add enough cold water to just cover the potatoes.


Boil for 7 minutes or until potatoes are almost cooked through.
Drain and let sit in a colander to steam dry 
Toss potatoes with olive oil and bake on a large baking sheet, without crowding the pan, for 30 minutes. SMASH or flatten each potato with a potato masher or the bottom of a mug till it splits.

Drizzle with the rest of the vinegar and bake for another 30 minutes until golden and crispy! 
Sprinkle generously with sea salt. 


ENJOY!