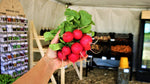 Tomato salsa not your thing? Try this crunchy and fresh radish and cilantro salsa at your next BBQ or picninc. It won't disappoint!


Radish Cilantro Salsa
1 ½ C radish, diced
1 ½ t red onion, minced
½ C cilantro, chopped
2-3 t red chile, minced
3 T olive oil
2 pinches salt
1 T maple syrup
3 T lemon juice
-
Combine the radishes, red onion, cilantro, and chile in a medium bowl
Whisk all the dressing ingredients together and pour over the veggies just before serving. Fold and season with more salt as desired!
Naturally Nourished - Sarah Britton