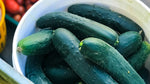 This relish couldn't be easier to make, and will take your next BBQ to the next level!
Super Simple Cucumber Relish
2 cups diced cucumbers (2 to 3 small cucumbers)
1 T kosher salt
½ C apple cider vinegar
3 T maple syrup or honey
2 T finely chopped dill (optional)
---
Finely chop the cucumbers & toss with salt; place in a mesh strainer set over a bowl and let sit for 30 minutes. Discard the liquid.
Add the vinegar and sweetener to a pot, bring to a simmer.
Transfer the cucumbers to a heat resistant jar and dill if using) & pour the hot liquid over top. Let sit until cooled to room temperature, 30 minutes to 1 hour. Cover & refrigerate overnight.