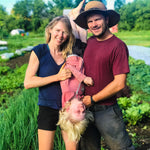 If you had told us 5 years ago that we would be organic farming 10 minutes from the downtown of a major city we would have laughed out loud! 

But that is exactly what happened and we couldn't be happier our family adventure has landed us here. 

Here's our story.

We are adventurous by nature! In fact, we spent the 3 years prior to arriving in Ottawa travelling Canada and the US in a camper van, but excuse me, I'm getting ahead of myself. Let me start at the beginning. 

We were farming for 7 years in the Quebec Eastern Townships in Dunham. We farmed using a mix of horse and tractor power, so we had four big Belgium draft horses we were using to plow the soil and work the soil and grow the vegetables.
We were feeding 600+ families a week in Montreal. We were financially successful. We had it all! We followed this linear journey of growth - from renting a small farm to building up this big business, to putting ourselves in line to buy a huge million-dollar farm! 

And then my lovely lady Jolianne said, "Let's go for an adventure!"

At first, I was just like, "Wow, that's a really crazy idea." then as I let the idea simmer in my brain I realized she was right. We were young and while we had so many great things going for us at the farm in Dunham... there was an element missing. It was hard at first to put our finger on it, but looking back I can see what it was. We were so far out in the country and while our corner of the Eastern Townships was quite "hip" we found ourselves driving 2 hours into Montreal to deliver produce to our customers. We did this 4 times a week. That's 16 hours of driving! It felt like we were always reaching out and driving a long way to find people and feed them. 

I believe that good organic food is meant to be eaten right where it's grown.

And so we set out on an adventure. We let our lease go. We sold all our horses and our tractor and everything. We turned our Sprinter delivery van into a camper van and set off on a road trip across Canada and the US for 3 years with our 3-year-old son, Milo! 

We travelled twice around the US and Canada and everywhere we went we looked up Organic Farmers, told them we were fellow farmers on sabbatical and asked if we could swing by and camp out on their farm. Everyone was SO warm and welcoming and in connecting with so many incredible farmers we realized something...

We were not alone. That the human experience is so similar across different types of farms in different areas. That sense of isolation was not unique to where we had been farming and that there was a real need to bring people together to see what was going on at that personal level. 

So I trained as a life coach and started a coaching practice! I combined my background in Agronomy, coaching and business management to serve over 50 clients helping them to overcome the same challenges we faced on our farm. 

And then it struck us while we were travelling around in our van. We realized we missed farming!

We now knew we didn't want to live in the countryside. We didn't want to live far away. That created a dilemma. How were we going to live in the city with a 50-acres backyard?!

Then a buddy of mine, who owns Roots & Shoots Farm in Wakefield, said, "Hey, do you know about the Greenbelt? It's incredible farmland you can rent from the NCC and it is literally in the city!"

The rest is history. After a year and a half of visiting several farms and analyzing the soil, the land and the proximity to the city we settled here, in Gloucester in the east end of the city. 

It's just perfect. Amazing soil. No rocks. And we are 10 minutes from downtown Ottawa!

So with everything lined up perfectly, we hit the ground running! Just two months after arriving at our new farm we cleaned, built, worked the ground, sowed, and opened up our first small store right on the Farm. Since then we've built a thriving Summer and Winter CSA program, expanded the Farm Store, and settled into our new Ottawa community. What a wild ride it's been!

So now that you know a little about us, don't be shy, stop by and pick up the veggies we've grown just for YOU! 

Jonathan, Jolianne & Milo