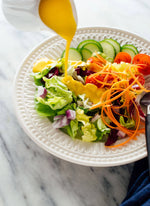 This bright, sweet & tangy dressing is just as tasty as it is beautiful! Adds some spring freshness as we head into a cozy fall season. Enjoy this on salads, rice bowls, beans, everything!
---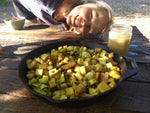 Tofu Chickpea Stir Fry with Tahini Sauce 1/3 C water1/4 C tahini2 T each tamari & rice vinegar2 t honey3 t minced fresh ginger1 t oil1 C cooked chickpeas, drained and rinsed if using canned1/2 red onion or ½ bunch green onion, thinly sliced1 bell pepper or zucchini, diced8 oz baked tofu, cubed 3 to 4 C cooked rice or other grainsToasted sesame seedsHerbs or green onions, chopped ---Stir together water, tahini, tamari, rice vinegar, honey & 1 t fresh ginger. Heat oil in a large skillet over medium-high, add chickpeas and stir for 2 mins, or until they start...
---
Sweet roasted carrots and beets bathed in a creamy miso and yogurt dressing - don't mind if I do!