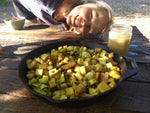 Tofu Chickpea Stir Fry with Tahini Sauce
1/3 C water
1/4 C tahini
2 T each tamari & rice vinegar
2 t honey
3 t minced fresh ginger
1 t oil
1 C cooked chickpeas, drained and rinsed if using canned
1/2 red onion or ½ bunch green onion, thinly sliced
1 bell pepper or zucchini, diced
8 oz baked tofu, cubed
3 to 4 C cooked rice or other grains
Toasted sesame seeds
Herbs or green onions, chopped
---
Stir together water, tahini, tamari, rice vinegar, honey & 1 t fresh ginger.

Heat oil in a large skillet over medium-high, add chickpeas and stir for 2 mins, or until they start to pop!
Add in 2 t minced ginger and cook for 1 minute more. Add onions, peppers or zucchini, and cook until tender.
Stir in baked tofu and cook until tofu is golden and chickpeas start to brown.
Pour tahini sauce over the tofu and cook 1 minute more, just to warm the sauce.
Serve over rice or grains and top with sliced green onions or finely chopped herbs and toasted sesame seeds
www.thekitchn.com/recipe-tofu-chickpea-stir-fry-with-tahini-sauce-204205#post-recipe-11112