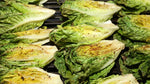 Grilled lettuce? Yup! Grilling your lettuce before making this Caesar Salad adds an unique flavour and infuses it with smokiness and great flavour. Give it a try and see what you think!
Grilled Caesar Salad with Chickpea Croutons
2 heads romaine lettuce
Coconut oil
Salt
½ C tahini
1 garlic clove
½ t black pepper
1 T each,  olive oil & lemon juice
Zest of one lemon
2 t each, dijon mustard & tamari
½ C water
Salt
3 C chickpeas, cooked, drained & rinsed (2 cans)
3 T coconut oil
1 t each, salt, pepper, & garlic powder


Make the croutons: spread the chickpeas on a towel and rub dry, discarding loose skins. Toss with oil and seasoning and roast on a parchment lined baking sheet for 25-35 minutes at 400 F. Let them cool, they will crisp up as they cool! Store in an airtight container for up to 1 week.
Make the dressing: Blend tahini, garlic, pepper, oil, lemon, dijon, tamari, water and salt until smooth, adding more water if necessary. Store in the fridge for up to 1 week.
Grill the lettuce: remove the looser outer leaves and save for another salad. Cut off the top quarter of each head (use for another salad). Slice the head in half lengthwise and rub both sides with some coconut oil and sprinkle with salt. Using a very hot grill pan or grill, place the lettuce halves cut side down and cook until charred, 3-4 minutes, Flip and cook 2-3 minutes more.
To serve, place a lettuce half on each plate and drizzle with dressing and a scoop of chickpea croutons!
Sarah Britton - Naturally Nourished