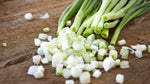 Green Onion Pull-Apart Bread
2 ¼ t active dry yeast
1 T sugar
¾ C warm water
3 C flour
2 t salt
½ C oil
8 green onions, finely chopped
¼ C toasted sesame oil
Red pepper flakes, salt and pepper
1 egg lightly beaten with 1 T water
Toasted sesame seeds
---
Dough: combine yeast, sugar and warm water in a glass measuring cup. Let stand until foamy, 5 minutes. Combine flour and salt in a large bowl or stand mixer fitted with dough hook. Stir in the yeast mixture and mix to combine. Knead 7-10 minutes or until smooth and springy, transfer to a lightly greased bowl, cover with a damp towel and let rise about 2 hours or until doubled.
Filling: Brush an 8-inch round cake pan with sesame oil. Roll dough into a 24x9 inch rectangle and brush with sesame oil. Sprinkle with scallions and a few pinches of salt, pepper, adn red pepper flakes. Roll the long side up and brush outside with more sesame oil. Cut into 1-2 inch pieces and arrange them cut side up in the cake pan. Cover and rise for 30 minutes. Brush the dough with egg wash, sprinkle with sesame seeds and salt and bake at 375 for 30-35 minutes or until top starts to brown.
Modern potluck - Kristin Donelly