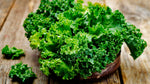 Kale + salad + pasta = a winning recipe! We love kale, and when you whip it into a casear inspired pasta salad, we love it even more! This particular caesar dressing is vegan, but any creamy, cheesy dressing would be delicious!
"Kale Caesar!" Pasta Salad
½ large loaf bread, slightly stale
3 T olive oil
¾ t salt
½ t pepper
16 oz dry pasta
¼ c capers
1 bunch kale (6-7 leaves)
Dressing
1 c each: raw cashews and water
4 cloves garlic
1 T white wine vinegar
1 t salt
½ t pepper and dijon mustard
¼ c nutritional yeast
2 T lemon juice
3 T olive oil  
---
Preheat oven to 375°. Cut bread in 2 cm cubes and toss with 2 T olive oil, salt and pepper. Bake in a single layer on a baking sheet for 10 minutes, flip and bake for 10 minutes more. Store in an airtight container for up to 2 weeks 
Cook pasta, drain, and rinse in cold water. Return to sauce pan and coat with 1 T olive oil to prevent sticking. 

Blend all the dressing ingredients except for the capers together until completely smooth

To assemble, stem and chop the kale leaves and massage with ¼ cup of the dressing. Add pasta, capers and remaining dressing. Top with croutons!


VEGAN COMFORT COOKING - MELANIE MCDONALD