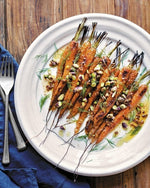 If you're looking for a recipe that looks as good as it tastes, look no further! We all know Farm Fresh carrots are sweeter than most, but roasting them makes them even sweeter. Drizzled in a nutty, buttery sauce and topped with fresh dill - this will wow anyone you invite to your table.
Brown Butter Carrots with Pistachios and Dill 
14 carrots, with tops 
2 t coconut oil
Sea salt
2 T butter
1 shallot, diced
½ t dijon mustard
1 ½ t apple cider vinegar
1 T pistachios, toasted and chopped
Handful of fresh dill
----
Preheat oven to 400, wash carrots and trim off all but 1 inch of the tops. Rub with coconut oil and place on baking sheet. Season with salt and roast until tender and blistered, 20 - 30 mins. 
Make the dressing; melt the butter over medium heat in a small skillet. Add the shallot and swirl the pan until butter changes colour to light brown, 5-7 mins. It can burn very quickly so watch it! Remove from heat and pour mix into a jar. Add the mustard, vinegar, and a pinch of salt. Seal and shake until blended.
Remove carrots from oven and place on platter, pour dressing over top. Scatter pistachios and dill over the carrots. Serve immediately! 
Naturally Nourished - Sarah Britton