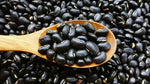 This recipe might take a little bit of time, it's worth the effort! Try making a double recipe of beans and freezing them and adding them to salad bowls, tacos, or as a topping for nachos.
Black Beans with Cilantro-Lime Brown Rice & Pickled Onions

For the beans:
1 lb dried black beans
1 onion, chopped
1 bell pepper, chopped
2 jalapeño peppers, chopped
2-3 T ground cumin
2-3 T dried oregano
1 T garlic powder
2 T rice wine vinegar
2 T sugar
salt
pepper
olive oil
water
lime wedges for garnish
For the brown rice:
1 lb dried brown rice
5 C water
1.5 t salt
juice of two limes
cilantro to taste
olive oil
For the pickled onions:
1 red onion
1/2 cup rice wine vinegar
2 tablespoons sugar
Night before:

Soak beans in a large covered bowl with a few inches of water 
Thinly slice the red onion, dissolve sugar into vinegar in a non-aluminum bowl. Add onions, cover, and refrigerate. Stir in the morning 
Day of: 
Cook onions and peppers in a large pot in olive oil until they soften. Drain beans, discarding water, and add them to the onions. Add enough fresh water to cover beans by 1 inch. Add oregano, cumin, pepper, garlic powder, vinegar and sugar. Don't add the salt yet! Simmer for 2 hours or until beans are soft, adding water if beans ever stop being submerged.

Start the rice: toast the grains in a hot pot with olive oil for a minute or until it starts to smell nutty. Add water and salt. Boil, cover, and reduce to a simmer. Cook until water is absorbed, about 1 hour. Add juice from the limes and cilantro. Let the rice rest while the beans finish.

When beans are soft, add salt, vinegar and sugar to taste. Take off heat and cool 15 mins to allow liquid to thicken.

Serve rice with beans, onions and additional cilantro with a wedge of lime.