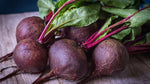 There's not many meals that are bright pink, so this one is just as fun to look at as it is to eat! It's just as easy to roast lots of beets at once so why not make a double batch of beet pesto and freeze it to enjoy later? It's just as delicious made with yellow beets too.
Pink Pesto Pasta
1 pound red beets (3-4 med)
⅓ C pumpkin seeds, toasted
2 garlic cloves
1 ½ t lemon juice
3 T olive oil
½ t salt
1 ⅓ pounds pasta (spaghetti or linguine)
Olive oil
¾  goat cheese
Parsley
    -
Preheat the oven to 400. Wrap the beets in foil and roast 40-60 mins until tender. Remove from the oven, unwrap and let them cool before slipping off the skins.

In a food processor, pulse the garlic until minced, roughly chop the beets and add them to the processor with the pumpkin seeds, lemon juice, olive oil, salt, and process until relatively smooth. Add more lemon juice or salt if necessary.

Cook pasta in a large pot of boiling water with salt until al dente. Drain, return to pot and drizzle with olive oil. Stir in the pesto.

Serve pasta with crumbled goat cheese, sprinkle with parsley, and season with salt
Naturally Nourished - Sarah Britton