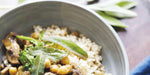 Ragout is just a fancy word for stew, so don't be intimidated! This hearty winter stew filled with chickpeas and mushrooms will warm you from head to toe, and is just as delicious served on a bed of rice, as creamy polenta, or comforting mashed potato. You could even top it with a poached egg and serve with crusty bread for dipping.
---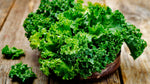 It's no secret, we love kale, and we add it to anything and everything! If you aren't as accustomed to eating kale, this is a great recipe to try. When chopped finely you barely even notice that it's there, but your body will thank you for all the kaley goodness! These are just as good on pasta, or as a party hors d'oeuvre.
---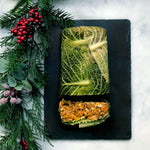 Delight the vegetarians at your festive table with this British classic - nut roast! There are a few steps involved in the preparation of this recipe, but it is filled with great Farm Fresh veggies and the filling can be made ahead of time and frozen to make assembly a bit easier on the day.