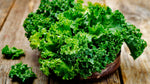 It's no secret, we love kale, and we add it to anything and everything! If you aren't as accustomed to eating kale, this is a great recipe to try. When chopped finely you barely even notice that it's there, but your body will thank you for all the kaley goodness! These are just as good on pasta, or as a party hors d'oeuvre.
Cranberry & Kale Meatballs with Cranberry Aioli
Meatballs
1 teaspoon coconut oil
½ yellow onion peeled and diced
1 cup fresh cranberries
2 cups packed kale leaves, stems removed (Mixed Salad Greens Pod Pack)
1 ½ tablespoons fresh rosemary (Mediterranean Herbs Pod Pack)
1 lb ground beef
1 egg (optional)
1 teaspoon sea salt
1 teaspoon garlic powder


Cranberry Aioli
¼ cup prepared cranberry sauce or homemade cranberry sauce
¼ cup olive oil or avocado oil mayonnaise
2 tablespoons fresh rosemary (Mediterranean Herbs Pod Pack)
juice half lemon


Directions:
Pre-heat the oven to 375 degrees F.

In a large sauté pan over medium heat, melt the coconut oil. Add in the diced onion and sauté until start to soften.

In a food processor add the fresh cranberries, kale, and rosemary. Pulse all of the ingredients together until they are finely chopped.

Add the cranberry kale mixture to the onions and continue to sauté until the onions are translucent and the kale is softened, just a couple of minutes. While the mixture cools slightly, make the cranberry aioli.

Add the cranberry sauce, mayo, lemon juice, and 2 tbsp rosemary to a bowl and mix until combined. Set the aioli in the fridge for the flavors to combined, make it the day before for even better flavor!

Add the ground beef to a large bowl with the sautéed cranberry and kale mixture.To the same bowl add the egg, salt, and garlic powder. Mix well to combined but being careful not to over mix or you will get tough meatballs.

Roll the mixture into 2-ounce balls using your hands or a scoop, you should get 12-14 balls.

Place the meatballs on a rack lined baking sheet to get an evenly cooked meatball. Cook in a 375-degree F oven for 15-20 minutes until cooked through.

Allow the meatballs to rest for 5-10 minutes before transferring to a serving platter.

Serve with the cranberry aioli.
---
www.theorganicdietitian.com/holiday-meatballs-cranberry-aioli