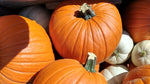 Pumpkin frosting?! Just in time for the end of fall. This cake makes the perfect decadent treat for any occasion.
Chocolate Cake with Pumpkin Frosting
1 C ground nuts (100 g) ((e.g. hazelnut))
1 3/4 C spelt flour (250 g)
1/2 C cocoa, unsweetened (50 g)
1 C + 2 T coconut sugar or other (150 g)
1 T flax meal
2 T coconut oil
1 1/2 C milk (dairy or non dairy)
1 T baking powder
1/4 t salt
1 C cashews (130 g)
1 C pumpkin purée (250 g)
1/2 C maple syrup (160 g)
1/2 t cinnamon
1/4 t ground ginger ((optional))
1/4 C dark chocolate shavings ((optional))
---
Soak cashews in hot water for at least 30 min. Soak flax in ¼ C warm water for 5 minutes. 
Combine ground nuts, spelt flour, cocoa, sugar, baking powder, and salt.
Separately, mix together the flax mixture, coconut oil, and milk. Combine dry and wet together, making sure not to overmix!

Bake in a greased 7 inch pan for 45 -60 min at 350. Let cool completely before topping with frosting.
 
For the frosting, drain cashews and blend with the pumpkin, maple syrup, cinnamon and ginger until creamy. Spread on top of cake and slice the cake in half to fill the middle.

Top with chocolate shavings if desired. Enjoy! 
---

www.veggiejam.com/english/chocolate-cake-with-pumpkin-frosting/#tasty-recipes-1705