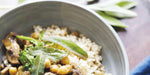 Ragout is just a fancy word for stew, so don't be intimidated! This hearty winter stew filled with chickpeas and mushrooms will warm you from head to toe, and is just as delicious served on a bed of rice, as creamy polenta, or comforting mashed potato. You could even top it with a poached egg and serve with crusty bread for dipping.
Warming Chickpea Mushroom Ragout with Crispy Sage
1 C brown rice 
2 C water
1 3/4 t salt
3 onions, chopped
3 garlic cloves, minced
2 T coconut oil
½ C vegetable broth
⅓ C sage, roughly chopped + 16 leaves for frying
1 ½ t each dried rosemary and thyme
14 oz cremini mushrooms, quartered
½ C milk
1 T balsamic vinegar
1 t black pepper
1 ½ C chickpeas, drained and rinsed (1can)
1 ½ t lemon juice
2 C spinach leaves
---

Combine the rice, water, and salt in a medium saucepan. Bring to a boil, reduce the heat to low, and simmer, covered, until the rice is tender and has absorbed the water, 45-50 minutes.

Melt 1 T of the coconut oil in a large stockpot over medium heat. Add the onions and the remaining teaspoon of salt, cook for 10 minutes. Add the garlic, chopped sage, rosemary, thyme, and mushrooms. Cook on high for about 10 minutes. Add remaining broth, milk, vinegar, black pepper, and chickpeas. Lower the heat and simmer until the liquid has reduced and thickened slightly.

Melt the remaining 1 T of coconut oil over medium high in a small skillet. When hot, add 6-8 whole sage leaves and fry for 10-15 seconds. Using a fork, transfer the leaves to paper towels and sprinkle with sea salt. Repeat until finished.

Remove the ragout from the heat and stir in the lemon juice and spinach leaves just before serving over the rice. Top each plate with 4 crispy sage leaves.

---
recipe & photos from Sarah Britton - Naturally Nourished