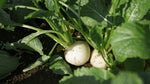 What a fantastic way to showcase these pearly white turnips! Crunchy sugardrops coated in a sweet, buttery, umami glaze.
Miso Glazed Sugar Drops
2 lb (1 quart) sugar drop turnips, small ones left whole and larger ones sliced in half
olive oil
salt
1 T butter
1 T miso paste
1 T maple syrup
2 T toasted sesame seeds (optional)
---
Preheat the oven to 425F.

Toss the turnips with olive oil and salt on a rimmed baking sheet and roast for about 15-20 minutes.

In a small saucepan, melt together the butter, miso and maple syrup over medium heat.

Toss the turnips with the miso mixture and broil until beginning to brown, 3-5 minutes.

Top with toasted sesame seeds, if desired.
---

dishingupthedirt.com/browsing-filters/seasonal/miso-turnips/