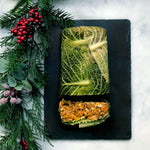 Delight the vegetarians at your festive table with this British classic - nut roast! There are a few steps involved in the preparation of this recipe, but it is filled with great Farm Fresh veggies and the filling can be made ahead of time and frozen to make assembly a bit easier on the day.
Nut Roast
6 leaves of cabbage
50 g butter (3.5 T)
1 each parsnip and onion, chopped,
150 g butternut squash, peeled & chopped
150g chestnut mushrooms, finely chopped
100 g cooked chestnuts, roughly chopped
75 g cashews, toasted & roughly chopped 
50 g walnuts, toasted & roughly chopped 
100 g brown breadcrumbs
100g goats cheese, roughly cubed
2 sprigs of rosemary, leaves removed & roughly chopped
-
In large saucepan cook onions with butter and salt on medium heat with the lid on. Add butternut squash and parsnip, stir, turn to low heat and put lid back on, stirring occasionally.

Grease a loaf tin with butter, line with foil, and grease the foil.

Boil water in a large pan. Drop cabbage leaves into boiling water and cook for two minutes. Place in a bowl of ice water.

Use immersion blender to blend half butternut mixture in the pot. Mix & add mushrooms. Cook for a while longer while you prepare the nuts, and then take off the heat. Add nuts & breadcrumbs, stir. Add goats cheese, 1 t salt, rosemary & pepper.

Dry cabbage leaves a bit & use them to line the pan, overlapping them together. Spoon in the mixture & fold cabbage leaves over the filling. Cover with foil & bake for 40 mins at 350. Remove foil, bake for 15 minutes more.
recipe & photo courtesy of:
www.learningwithexperts.com/foodanddrink/blog/the-showstopper-nut-roast-everyone-will-love