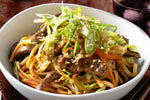 Noodles, veggies, and a tasty sauce...what's not to love?! This udon noodles stir-fry cooks up quickly and it's easy to substitute whatever veggies you have on hand.
Beef, Miso & Sesame Noodles
⅓ C tamari
2 T miso
1 ½ T apple cider vinegar
1 T grated ginger
1 package udon noodles
3 T oil
500g thinly sliced beef
1 onion, thinly sliced
1 garlic clove, crushed
1 carrot, peeled & cut into matchsticks
3 C shredded cabbage
2 T water
2 t toasted sesame seeds 
-
Mix together the first four ingredients for the sauce.

Cook noodles in boiling water for 8 mi, refresh under cold water and drain.

Stir-fry half the beef in 1 T oil for 2-3 min until browned, repeat with remaining beef.

Stir-fry onions in remaining oil for 1-2 min before adding garlic, carrot, cabbage & water.

Stir fry for 2-3 min before adding noodles, beef & sauce mixture.

Cook 2 min longer and serve with sesame seeds and shallot or green onion.
www.taste.com.au/recipes/beef-miso-sesame-noodles/4f070edb-7092-46fd-ac09-47a3e7cae51d