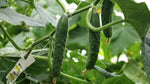 We like to eat the rainbw here at Ottawa Farm Fresh, but sometimes a monochrome meal can be just as beautiful as a multicoloured one! This all green salad is super refreshing, super simple, and super delicious!
---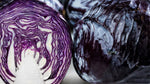 Coconut- Quinoa Coleslaw with Minty Tahini Dressing ½ C quinoa, rinsed 1 C water ¼ t salt Dressing: ½ C tahini ¼ C lime juice 2 T olive oil 1 T maple syrup ¾ C water Salt 1 C packed mint leaves  Veggies:  2 C each, red cabbage, green cabbage, and kale, shredded 3 carrots, sliced finely 1 red pepper, sliced finely or sub 1 cucumber ¼ C lemon juice1 T olive oil ¼ t salt 1 C unsweetened, desiccated coconut --- Make the quinoa: combine the quinoa, water, and slat in a small sauce pan. Bring to a boil,...
---
This recipe from Sarah Britton (Naturally Nourished) features Dukkah, an Egyptian herb, nut and spice mix, to amp this refreshing blend of cukes, avocado and herbs! Try it with whatever fresh herbs you have on hand.