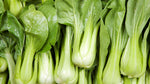 Pork and Kimchi Soup with Tofu and Bok Choi 4 C kimchi with liquid 8 T oil 2 lbs pork, cubed 1 T maple syrup  4 C chicken broth 1-3 T gochujang 1 lb firm silken tofu, cubed 1 large bok choy, stems and leaves separated and sliced2 T toasted sesame oil Soy sauce, salt and green onions to season---- Strain the kimchi over a bowl, reserving the liquid, for 10 minutes. Heat oil in a large pot and cook meat in two batches over medium -high heat. Turning as necessary until golden brown, about 8 minutes per batch, remove...
---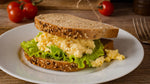 This veggie tofu spread is ridiculously easy to make, and oh so delicious! You can use any mix of veggies and herbs you have on hand, and it's equally as delicious on a sandwich, in a wrap, or spooned on top of crackers.
---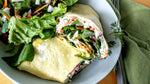 In the summer I crave protein loaded light meals. This is one of my favourite lunches; it leaves me energized and ready to be under the hot sun for the rest of the day.