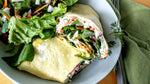 In the summer I crave protein loaded light meals. This is one of my favourite lunches; it leaves me energized and ready to be under the hot sun for the rest of the day.
Why do I love this recipe?
* It's protein filled: This wrap recipe is made with egg for a protein boost, and as an added bonus the egg wraps are silky and crepe-like - just delicious. Along with the tofu in the spread this wrap is a protein powerhouse!
* It has microgreen power: Along with the tofu spread, this wrap is filled with microgreen sprouts because they are just so delicious! They give a crunch and a flavour unlike in any other veggies we grow, and they are full of life and energy!
* It's filled with miso goodness: Have you used miso paste before? It's a staple in asian cooking, and is full of essential minerals and vitamins, as well as flavour. Also, as it's a fermented product, it is full of beneficial bacteria that is great for gut health.
Organic miso is one product that I haven't found consistently in my nearby grocery store since moving to Ottawa, so I ordered a case of my favourite one so you can add organic miso-power to this recipe!
I also suggest adding bbq sauce to the wrap. Why? Because it's just soooo good. In our travels on the east coast we found this amazing bbq sauce made in Canada that is sweetened with honey and it's just the best. I think I eat bbq sauce in every meal - believe it or not I'll even put it in a smoothie. Maybe that's a recipe for another week!?
Egg Wraps filled with Tofu Veggie Spread
Tofu Spread
1 block firm tofu (454 g)*
3 T each miso*, oil, apple cider vinegar*
1 C celery finely chopped or shredded beets/carrot
3 green onion, finely sliced
3 T cilantro, parsley, dill or basil* (or more)
Topping: BBQ sauce, cheese, microgreens, mesclun, cherry tomatoes
Egg wrap
For every wrap:
1 egg
1T starch (corn or arrowroot work well)
1T water
Egg wrap: mix all ingredients. Use about ⅓ cup for standard pan. Fry in a hot pan, flip &let cook for only a few seconds more so it doesn't get crunchy. 
These can be made ahead of time and can be kept in the fridge for sweet and savory snacks (pb&banana, yogurt & fruit, chia chocolate pudding, beet hummus, etc.) Let cool individually before storing.
Tofu spread: Drain the tofu, wrap in a towel with a weight on it for 10 minutes.  Add to a food processor along with the miso, oil, ACV. Then add the veggies and herbs & mix with a spoon.