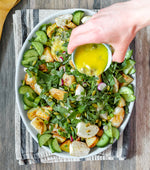 Put those beautiful sugardrop radishes (hakurei turnips) in your CSA basket to good use in this delicious roasted radishes/turnips and potato salad with mint and lemon caper dressing. Roasted radishes/turnips and potatoes are tossed with turnip greens, mint, pumpkin seeds, cucumber, green onion, and flavourful lemon caper dressing. 
Serves 6 generously as a side.
Roasted Sugardrop Radish and Potato Salad with Mint and Lemon Caper Dressing
Roasted Potatoes and Radishes/turnips:
2 lbs red or yellow potatoes (or a combination)
1 bunch Japanese turnips (greens reserved)
1 ½ tablespoons extra virgin olive oil, divided
Sea salt and freshly ground black pepper
Lemon Caper Dressing: 
2 ½ tablespoons extra virgin olive oil
Juice and zest of one lemon
2 teaspoons Dijon mustard
1 large garlic clove, minced
1/4 teaspoon sea salt
Freshly ground black pepper, to taste
1 teaspoon maple syrup or raw honey
2 tablespoons capers
Everything Else: 
1 Lebanese cucumber, sliced into half circles
3 green onions, thinly sliced
½ cup fresh mint, basil, or parsley, finely chopped
¼ cup toasted pepitas or sliced almonds
Instructions: 
Preheat the oven to 400 degrees F and line two large rimmed baking sheets with parchment paper, if desired. 
Dice the potatoes into approximate 1-inch cubes. Place them on one baking sheet and drizzle with 1 tablespoon of the olive oil. Sprinkle with salt and pepper and toss to coat. Spread out in an even layer and roast for 30-35 minutes, until tender and golden brown. 
Cut the sugardrop radishes/turnips into quarters and place them on the other baking sheet. Drizzle with the remaining ½ tablespoon of oil and sprinkle with salt and pepper. Spread out in an even layer. Roast for 18-20 minutes, or until tender and golden brown. Thinly slice the greens. Once the turnips come out of the oven, sprinkle the greens over top of them so that they wilt.  
Meanwhile, make the dressing: Combine the olive oil, lemon juice and zest, Dijon mustard, garlic, sea salt, pepper, maple syrup or honey, and capers in a jar. Secure the lid and shake to emulsify. 
Finally, assemble the salad: Arrange the roasted potatoes, radishes/turnips, and turnip greens on a platter or in a salad bowl. Top with cucumber, green onion, herbs, and pepitas or almonds. Add desired amount of dressing, toss, and enjoy! Leftovers can be stored in an airtight container in the fridge for three days.  
---------------------
Thanks to Allison from
Up Beet Kitchen
for sharing great recipes using Farm Fresh vegetables!