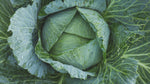 Last week we welcomed both summer cabbage and Chinese cabbage to the Farm Store. They are both delicious - crispy, juicy, and just perfect! Our summer cabbage is more tender than the storage cabbage we grow in the fall, making it perfect for eating raw, while the crunch of the Chinese cabbage is just marvelous in any salad or stir fry.
Note - items marked with an asterisk (*) are available in the Farm Store
Summer Cabbage Salad with Salmon Burgers
Summer Cabbage Salad
6 tablespoons plain nonfat Greek yogurt *

1 tablespoon miso *
2 teaspoons apple cider vinegar
2 teaspoons honey *
4 cups shredded green cabbage *
1 cup shredded radish *
2 green onions chopped *
Salt & pepper to taste
    -
In a small bowl, combine yogurt, miso, vinegar and honey. Set aside.
In a large bowl, combine  prepared veggies. Pour yogurt mixture over cabbage mixture and stir to combine. Season with salt and pepper to taste.
For best results, place (covered) in the refrigerator for at least a half hour before serving to let all of the flavours meld.
Salmon Burgers
1 1/2 lb (675 g) skinless salmon, finely chopped
2 green onions, finely chopped *
1/3 cup (40 g) breadcrumbs
1 egg, lightly beaten *
2 tbsp chopped fresh herbs of your choice *
2 tbsp (30 ml) mayonnaise
2 tsp (10 ml) lemon juice
1 tsp dry mustard
    -
Preheat the grill, setting the burners to high. Oil the grate.
In another bowl, combine all the ingredients until smooth. Add bread crumbs if the mixture is too soft. Season with salt and pepper. Shape into 6 patties.
Adjust the burners to medium heat. Grill the patties for 3 to 4 minutes on each side or until the salmon is cooked through. Toast the buns*.
    -
Summer Herb Sauce
¾ cup nonfat plain Greek yogurt *
2 tablespoon miso (or replace with 1 tablespoon of apple cider vinegar) *
¼ cup chopped fresh herbs such as cilantro, parsley, dill, or chives *
1/4 teaspoon garlic powder
¼ teaspoon kosher salt
Dash of honey or maple syrup to taste *
    -
Mix all ingredients in a small bowl - season to taste.
To Serve
Spread the herb sauce on the inside of the toasted buns. Place the lettuce and then the patties on the bottom halves of the buns. Garnish with lengthwise sliced cucumber, arugula, bbq sauce, and cover with the top halves of the buns.
Enjoy with the summer cabbage salad on the side!