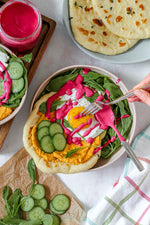 We're delighted to have Allison from Up Beet kitchen with us this summer to bring some of her delectable plant-based recipes to Ottawa Farm Fresh! All summer long she'll be bringing home a medium CSA basket and then working her magic to transform the veggies into edible works of art! We think you'll agree that she makes our veggies look even more delicious, which we didn't think was even possible!
We're so happy to have her along for the organic veggie ride this summer!
Find her online, on Instagram, and Facebook.
--------------------
Smokey Roasted Carrot Hummus Naan with Fried Eggs, Arugula, and Beet Tahini
This smoky roasted carrot hummus on naan with fried eggs, arugula, and beet tahini is a fun and different way to enjoy carrots and beets. The bright orange hummus, hot pink beet tahini, and vibrant green arugula are a feast for the eyes and the taste buds. Topped with fried eggs, these wholesome sandwiches are a complete meal.

Serves 6.
Smoky Roasted Carrot White Bean Hummus:
-2 cups sliced carrots (1/4-inch slices)
-3 tablespoons extra virgin olive oil, divided
-1 teaspoon smoked paprika
-1 teaspoon cumin
-Pinch of red pepper flakes
-Freshly ground black pepper, to taste
-1 ½ cups cooked navy beans (or 1 14-oz can, drained and rinsed)
-1/4 cup freshly squeezed lemon juice
-2 tablespoons tahini
-2 medium garlic cloves, minced
-3/4 teaspoon sea salt + a pinch
-Water, to thin
Beet Tahini Dressing
-1 medium beet, peeled and diced into ½-inch cubes (1 heaping cup once diced)
-1/2 cup water
-2 tablespoons apple cider vinegar
-2 tablespoons freshly squeezed lemon juice (omit if a less tangy sauce is desired)
-1/3 cup tahini
-2 teaspoons Dijon mustard
-1 medium garlic clove, minced
-1/2-1 teaspoon sea salt, to taste
-Freshly ground black pepper, to taste

For Serving
-6 Naan or pitas
-1 Lebanese cucumber, sliced
-Fried eggs (1-2 eggs per person)
-Several handfuls of arugula

Instructions:

Make the carrot hummus: Preheat the oven to 400 degrees F and line a baking sheet with parchment paper. Place the sliced carrots on the baking sheet and drizzle with 1 tablespoon of olive oil. Add the smoked paprika, cumin, red pepper flakes, a small pinch of salt, and pepper. Toss to coat. Roast for 20 minutes, or until the carrots are fork tender. Place the white beans, lemon juice, tahini, 2 tablespoons of olive oil, garlic, ¾ teaspoon of sea salt, and the roasted carrots in a food processor fitted with the 'S' blade. Blend until smooth, adding up to 1/3 cup of water until desired consistency is reached. Transfer into a container.

Make the beet tahini: Place the diced beet in a steamer basket and steam until tender all the way through, 15-20 minutes. Set aside to cool. Once cool, combine the steamed beet, water, apple cider vinegar, lemon juice, tahini, Dijon mustard, garlic, salt, and pepper in an upright blender. Blend until smooth and transfer into a jar.

Put it all together: To serve, spread naan or pitas with the carrot hummus. Top with sliced cucumber, fried eggs, beet tahini, and arugula. Enjoy!

Notes:

-If you have time, I recommend making your own naan. I love this recipe!
-Leftover beet tahini can be stored in the refrigerator for several days. It makes a great salad dressing.