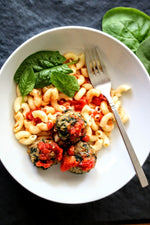 Spinach and Turkey Meatball Recipe
This recipe is so versatile that it is sure to become a kitchen staple. Change the ground meat for whatever you have on hand, add some herbs to take yourself to a different part of the world (oregano, thyme, mint, rosemary), or simply change the shape for a whole new meal (makes a great burger)!
Ingredients
400 grams fresh spinach (~1 1/2 bags)
1 pound ground turkey
1 large egg, beaten                       
1 cup soft bread crumbs or oatmeal
2-3 green onions finely chopped
Salt & pepper to taste               
------
Directions
Cook spinach until it begins to wilt, about 4 minutes. Let cool slightly, squeeze excess liquid out & chop finely.
In a bowl, combine spinach, egg, bread crumbs, onion, salt & pepper. Add turkey & mix well. Shape into 2-in. balls. Place meatballs on a greased rack in a shallow baking pan. Bake, uncovered, at 400° for 20 minutes or until the meat is no longer pink.