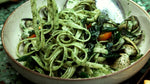 If you visited Ottawa Farm Fresh you know that we love arugula! It's so peppery and fresh flavoured, and so incredibly versatile. Though we often use arugula like lettuce, in salad and sandwiches, it can also take heat and be used somewhat like spinach. It's great on a grilled sandwich, added on top of a freshly cooked pizza, or stirred into pasta primavera at the end of cooking.
Arugula pesto is a great way to add a peppery zing to your meal. You can use this delicious sauce anywhere you'd use traditional basil pesto - in pasta, on a sandwich, drizzled on a pizza, or as a salad dressing. If you like things really zingy, skip the basil and use all arugula. It's delicious either way!
Arugula & Basil Pesto
Ingredients
2 cups packed arugula leaves
2 cups packed basil leaves
1/2 cup of nuts or seeds (pine, sunflower, pumpkin, almonds, walnuts)
1/2 cup fresh Parmesan cheese
1/2 cup extra virgin olive oil
1 clove garlic
1/2 teaspoon salt
Directions
In a food processor or blender combine the nuts/seeds, garlic, arugula, parmesan, and salt - pulse to blend. With the machine running, pour in the olive oil through the food tube in a slow, steady stream and process until smooth, stopping to scrape down the sides of the bowl as needed. Taste and adjust the seasonings.