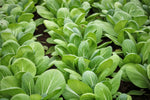 Spring at the Farm is all about the greens. Arugula, kale, lettuce, and our personal favourite - bok choi.
This crunchy little green is so juicy and refreshing that we think of it as the watermelon of the spring! Milo loves crunching into a whole head of bok choi when out in the fields - believe it or not, it's his snack of choice.
As a dark, leafy, cruciferous vegetable, bok choi is also packed with essential vitamins and nutrients, like folate, calcium and B vitamins.
Garlicky Bok Choi
Ingredients
1 tablespoon vegetable oil
2 garlic cloves, chopped
3 green onions, chopped
1 pound baby bok choi cut into quarters, with core intact
1 tablespoon soy sauce
Directions
Heat oil in a large skillet or wok over medium-high heat. Add garlic and green onions and cook, stirring, until fragrant, about 30 seconds. Add bok choi, soy sauce, and 2 Tbsp. water and cover immediately. Cook for 1 minute. Uncover and toss, then cover and cook until bok choi is tender at the core, about 3 more minutes.