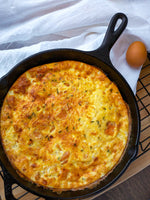 What can't you do with butternut squash? This versatile vegetable can go from sweet to savoury without skipping a beat, and it seems to make everything it touches just a little bit tastier. This Butternut Squash Frittata is no exception, with the roasted butternut squash combining perfectly with the creamy egg custard filling and providing a sweet counterpoint to the zingy garden chives or green onions.⁠
Butternut Squash Frittata

Ingredients:
1 onion, chopped
8 eggs
2 green onions or 1 bunch garden chives
1 cup sour cream or plain yogurt
Salt and pepper to taste
Method:
1. Preheat the oven to 400 °F
2. In a large ovenproof skillet (a well seasoned cast iron one works great), brown the squash in the oil for about 5 minutes. Add the onion and stir to combine well. Season with salt and pepper. Bake for about 15 minutes or until the squash is tender.

3. In a bowl, combine the eggs and green onions/chives with a whisk. Stir in the sour cream/plain yogurt. Season with salt and pepper.
4. Pour the egg mixture over the roasted butternut squash and onions in the pan. Sprinkle some cheese on top, should you so desire.
5. Bake for 40 minutes or until the quiche is golden brown.