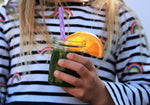 You might not be able to travel right now, but that doens't mean you can't savour the flavours of the tropics right at home. This simple smoothie recipe will make you feel like you're basking in the sun on a sandy beach, while also fueling your body with nutrient-rich spinach. It's a win-win!
Go Green Spinach Smoothie Recipe
Ingredients:
1 cup spinach
1 cup frozen or fresh mango or peaches
1/2 cup fresh or frozen pineapple
1 medium orange, peeled
1 tsp fresh ginger, peeled
1 cup coconut water or water
Method:
Add all ingredients to a high speed blender and blend until smooth. Add an orange slice, throw your sunglasses on, and enjoy in the sun!
Extra can be stored in a sealed jar in the fridge for one day.