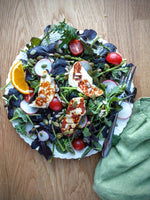 I like a warming casserole on a cold winter's day just as much as the next guy, but sometimes you just want a super fresh salad, no matter the season! The addition of creamy, grilled halloumi makes this salad a meal in itself. Add a slice of warm bread on the side, and you're good to go!

Halloumi Salad with Orange Vinaigrette
For the Salad:
1 bag Ottawa Farm Fresh mixed greens
4 radishes, thinly sliced
1 punnet cherry tomatoes
1 block halloumi cheese
Sprinkling of pumpkin and/or sunflower seeds
For the Orange Vinaigrette:
Juice of one orange
Zest of one orange
2 tablespoons apple cider vinegar
1/3 cup olive oil
1 1/2 tablespoons maple syrup
1 teaspoon dijon mustard
1 garlic clove minced
Salt and pepper to taste
Method:
1. Prepare salad dressing by placing all ingredients in a jar and shaking well to mix.
2. Place prepared vegetables in a large salad bowl and drizzle the salad dressing over - mix.
3. Slice halloumi cheese into ½" slices and grill until golden in an oiled frying pan or on a bbq.
4. Lay halloumi slices on top of prepared salad.
5. Sprinkle seeds on top.
6. Serve and enjoy!