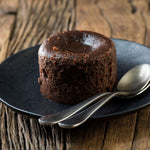 Butternut squash isn't just delicious, it's also highly nutritiuous. It's high in fiber, potassium, vitamins C and A, as well as magnesium, making it a perfect addition to your menu. I love it roasted and thrown into a salad, or mashed and used to filled homemade ravioli. Mmmmm...now I'm getting hungry!
I don't know about you, but butternut squash isn't the first ingredient that pops into my head when I think about chocolate cake. It's a good thing that there are some incredibly creative people out there though, oherwise we would never have been introduced to the delights of chocolate butternut squash molten lava cake
Chocolate Butternut Squash Molten Lava Cake
This recipe comes to us courtesy of myflourlesskitchen.com
INGREDIENTS:
1/2 c butternut squash puree
2 eggs
1/2 c cocoa powder
1 tsp espresso/instant coffee powder (optional)
1/2 c maple syrup or other sweetener

DIRECTIONS:
1. Peel your butternut squash and cut it into chunks.
2. Roast it in the oven at 425 for 20 minutes.
3. Mash the squash.
4. Combine ingredients well and pour into two 4" ramekin or springform pan.
5. Bake at 350 for 25-30 minutes.