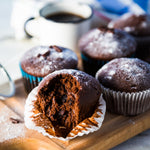 The Subject Read: Your beets are the Bomb!
It may be my favorite subject line to any email I've ever recieved and it contained this amazing recipe for
Chocolate Beet Muffins.
How fantastic is it that YOU are inspiring our cooking?! Thanks to Dominique for this amazing recipe.
Have a recipe we need to know about? Send it our way, and we'll pass it on and share it with the whole community.
Chocolate Beet Muffins
INGREDIENTS
2 1/2 cup flour
1/2 cup cacao
2 1/2 tsp baking powder
1 1/2 tsp baking soda
1 tsp salt
1 tsp cinnamon
1 tsp cayenne (optional)
3/4 cup butter (room temp)
1 cup sugar
3 eggs
1 tsp vanilla
2 cups grated raw beets  
1/2 cup milk
1/2 cup nuts or chocolate chip (optional))
COOKING INSTRUCTIONS:
1. In first bowl combine first 6 ingredients (dry) and set aside.
2. In second bowl (large) beat butter and sugar together until smooth- Add eggs one at a time, beating well between each addition. Add vanilla and grated beets.
3. Alternately stir in the dry ingredients and the milk into the beet mixture in large bowl. Add nuts/chocolate chips if using. Fill muffin cases 3/4 full with batter. Bake 350F for 18-20 min.