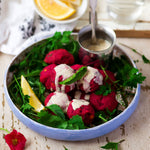 Beets that can't be Beat.
It warms my heart everytime one of our farm community members compliment our beets. After all, beets don't always get the love they deserve. These jewel-toned root vegetables in their shades of ruby red and sunset gold, are earthy, warm and a little sweet.
Beets are best paired with bright, sweet, and fresh flavors.⁠

When Eva (@foodieandminimalist) saw so many beets in her Winter CSA basket her immediate reaction was that of panic. What on earth would she make with all those beets? More importantly what would she make that her family (and kids!) would love?
Here's what happened...
Before signing up for a Winter CSA Basket subscription @ottawafarmfresh, I'd never really paid much attention to beets... because I never knew what to do with them.
So, what do I do with all those CSA beets?
Beet Falafels, of 'course! 
I used a great recipe from @minimalistbaker and in my opinion, it's a keeper! Loved the earth mix of the beets with the salad greens, especially topped off with homemade garlic sauce (or hummus, if you prefer). 
Put your beets to work and be sure to try this recipe out.
Enjoy! Eva @foodieandminimalist
Easy Beet Falafels
INGREDIENTS
1 1/2 cups of canned chickpeas
1 ½ cups shredded raw beets
4 cloves garlic, skins removed 
1 ½ cups loosely packed chopped parsley 
2 tsp ground cumin
1/2 – 3/4 tsp sea salt, plus more to taste
1 Tbsp tahini
1 Tbsp fresh lemon juice
1-3 Tbsp oat flour (or chickpea flour or GF flour)
1-3 Tbsp avocado or olive oil (for cooking)
COOKING INSTRUCTIONS:
1. Bake the chickpeas for 10-12 minutes to dry them out and yield crispy falafel.
2. Next, add shredded beets and baked chickpeas to a food processor along with garlic for zing, parsley for a fresh and herby flavor, cumin for smokiness, and sea salt for overall flavor. Add tahini and lemon juice for a little liquid to help everything blend into a tacky dough. But be careful not to over-mix as you're not looking for a purée.
3. If the falafel dough is too dry, you can add more tahini or lemon juice. And if it is too wet, you can add some oat flour or gluten-free flour. When the falafel is the right consistency, scoop out 1 ½-tablespoon portions and use your hands to form them into little patties (about 1/2-inch thick).
4. Bake – this option uses less (or no) oil and is mostly hands-off.
Pan Fry – this method is ideal for crispy falafel or if making just a few at a time.
Pan Fry, then Bake – for even crispier falafel, you can pan fry them for a crispy exterior and then bake for 5-15 minutes for even firmer / crispier texture.
**You can freeze uncooked falafel between layers of parchment paper. Then, when ready, just thaw and cook as instructed.