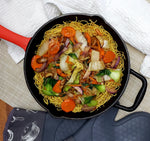 Fried Noodles and Veggies.
Can you think of a better way to eat your tasty carrots, Napa cabbage and daikon radish?⁠
⁠
Me neither.⁠
⁠
I remember many years ago when I lived downtown on Rochester St, we always ordered takeout from a restaurant in Chinatown called BenBen. One of their famous dishes (and our go-to favourite!) was "Fried noodles". ⁠
⁠
So, when I saw the gorgeous veggies in last week's Winter CSA basket, I thought why not try making my own?
~ Eva @FoodieandMinimalist
INGREDIENTS
1 package of chow mein noodles
6 TBSP olive oil (for frying noodles)
2 carrots, sliced in thin diagonal slices
1 red onion, sliced
1 daikon, sliced thin
4-5 small bok choy or braising greens
1 napa cabbage, sliced into strips
2 tablespoon olive oil (for stir fry)
Sauce:
2 TBSP of water
6 TBSP of oyster sauce
1 tsp sesame oil
Pinch of salt, sugar and pepper
COOKING INSTRUCTIONS:
1. Fry noodles in olive oil until crisp and golden brown.
2. Stir-fry onions in oil for 2 minutes, add carrots and daikon and stir fry for 2 minutes longer, add cabbage and bok choy and stir fry until slightly wilted (1 minute or less).
3. Add water, oyster sauce, sesame oil, a pinch of sugar, salt and pepper to frying pan.
4. Then thickened the sauce with cornstarch dissolved in water. Add to frying pan and stir to coat veggies.
5. Serve veggies over fried noodles. Drizzle with sauce.
And voila, Fried Noodles with Vegetables!
**Note: Add some chicken or steak for a non-vegetarian version :)