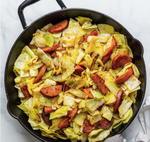 Cabbage? What do I do with that! 
Before I get to how amazing cabbage is to cook with, I have a confession to make. The truth is I've held cabbage at a distance ever since childhood. It isn't until I met Jolianne and Jonathan and tasted their incredible organic farm fresh cabbage that I realized what I'd been missing out on!
To me cabbage was what held cabbage rolls together. It was soggy and with my nose in the air, I'd banish it to the far side of my plate. I never ate it. In fact, I would bargin with my dad to eat it so that I could get dessert.
Cabbage is so much more than that!
Cabbage is one of those under appreciated veggies that, thanks to kimchi and sauerkraut has become quite cool lately. It's actually one of the most versatile veggies in your kitchen. From stuffed cabbage to stir-fries, skillet dinners, pasta, slaws, salads and more, there are so many tasty ways to make cabbage the star of your daily feast.
If you want to broaden your cabbage recipe horizons even further and discover some of the amazingly delicious things a simple head of cabbage can do, check out the source of this week's adapted recipe from therecipe.com for 30+ Cabbage recipes.
Kielbasa and Cabbage Skillet
INGREDIENTS
2 cups (approx. 4) kielbasa sausage
1/2 small head green cabbage
2 tablespoons butter
1/4 teaspoon caraway seeds
Pinch red pepper flakes
1/4 teaspoon salt
1/4 teaspoon freshly ground black pepper
1 tablespoon whole-grain mustard
1 tablespoon apple cider vinegar
DIRECTIONS:
1. Halve kielbasa sausage lengthwise, then cut into 1/2-inch-wide pieces. Core and chop 1/2 head green cabbage into rough bite size pieces.
2. Melt 2 tablespoons butter in a large cast iron skillet. Add 1/4 teaspoon caraway seeds and a pinch red pepper flakes, and cook until fragrant, about 30 seconds. Add the kielbasa and cook until browned, 6 to 8 minutes.
3. Add the cabbage, 1/4 teaspoon salt, and 1/4 teaspoon black pepper, and cook, stirring occasionally and scraping the bottom of the pan to release any browned bits, until tender and lightly browned, 8 to 10 minutes. Add 1 tablespoon whole-grain mustard and 1 tablespoon apple cider vinegar and toss to combine.