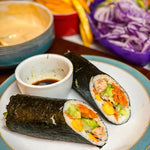 This is one of my families favourite meals! It is also one of those take-the-afternoon to languish in my kitchen and prepare an extra special meal recipes. Simply because the chopping of all our favourite ingredients takes time :) But boy, is it worth it! 
INGREDIENTS:
1 small daikon, peeled, spiralled, julienned or grated

2 medium sweet potatoes, scrubbed, sliced and cut into long narrow "fries"

5-10 sprigs of fresh dill, with fluffy sprigs removed from the stem

3 carrots, peeled, spiralled, julienned or grated

1 long cucumber, sliced into thin strips

2 avocado, sliced thin

1 red pepper, cored and sliced thin

1 large mango (or two small), peeled and cut into long strips

3 cups of sushi rice, cooked according to directions 

10 -15 Nori sheets (sushi wrappers)

Spicy Mayo

1 cup of mayo
2-3 TBSP of your favourite hot sauce, added to your preferred taste

DIRECTIONS

Set sushi rice to cook according to directions.

 
Slice and chop sweet potatoes in to "fries". Lay out on an oiled pan in a single layer. Drizzle with oil and toss to coat. Sprinkle with salt and pepper. Roast in the oven until golden brown.

 
Prepare Spicy Mayo. Simply add hot sauce to mayo and stir. Keep adding hot sauce until your reach a spiciness slightly hotter than you like when tasting the mayo straight. This way the spiciness will be distinct enough to taste when you add it to the sushi roll.

 
Prepare vegetables, mango and dill (daikon, carrots, cucumber, avocado, red pepper, mango and dill)

 

and set out on a large platter or divided serving tray.

 
Prepare your sushi rolling station with a sushi rolling mat, nori sheets, a small bowl of water, a sharp knife and a bowl for your hot rice.

 
When the rice is ready, add a few large scoops to your bowl (and be sure to keep the rest of the rice hot!) and begin rolling your sushi!

 
**check out youtube for instructions on how to roll your sushi.**
For sushi, cut your roll into 1-1.5inch wide sections. For Sushi Burritos, cut your roll in the middle on a diagonal (see photo)
Dip in soy sauce or tamari and enjoy!

 
Tip: Add your ingredients in the following order to keep the spicy mayo from squirting out or getting in the way of your sushi rolling - Nori sheet, rice, spicy mayo, soft veggies and last hard veggies. 
Non-vegan version: Grill up a salmon fillet and add it to your sushi!