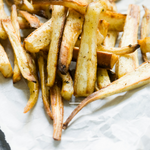 What are Parsnips? What do I do with them?
Parsnips are cream-colored, carrot-shaped root vegetables that are a member of the parsley family. They can be eaten raw but are often roasted, boiled, fried, or steamed to bring out their sweetness.  Parsnips have a nutty flavor with a unique sweetness to them. In fact, the parsnip was actually used as a pre-cane sugar sweetener in Europe.
Parsnips are chock full of vitamin C, vitamin K, folate, and antioxidants, which protect against certain chronic conditions. They also support your immune system—just one serving fulfills 25% of your daily vitamin C needs.
To prepare a parsnip, avoid peeling it the way you would a carrot—you might accidentally strip away some of the best flavor. Instead, grab a vegetable brush and scrub, scrub, scrub.
Parsnip Fries with Rosemary
Swap potatoes for parsnips to make these healthy baked fries! Great with your favourite burger, they're irresistibly crispy, sweet & salty.
INGREDIENTS
2 1/2 pounds parsnips, peeled, cut into about 3 x 1/2" strips
1 tablespoon finely chopped fresh rosemary, plus 5 sprigs rosemary
1 large garlic clove, minced
3 tablespoons olive oil
salt and freshly ground pepper
1/2 teaspoon (or more) ground cumin
1/4 cup of mayo
DIRECTIONS:
1. Preheat oven to 450°F. Mix parsnips, chopped rosemary, garlic, and oil on a large rimmed baking sheet. Season with salt and pepper and toss to coat. Spread out in a single layer. Scatter rosemary sprigs over.
2. Roast for 10 minutes; turn parsnips and roast until parsnips are tender and browned in spots, 6-10 minutes longer. Crumble leaves from rosemary sprigs over; discard stems and toss to coat. Sprinkle 1/2 teaspoon cumin over. Season to taste with salt, pepper, and cumin.
Farmer Jonathan version: Use coconut oil instead of olive oil for a delicious mild special touch. I prefer to use coconut oil for any application where I'll be heating it given the greater heat stability of coconut oil vs olive oil. Also... I love it with some smoked sweet paprika powder.
Thanks to Epicurous.com for the recipe.