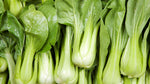 Pork and Kimchi Soup with Tofu and Bok Choi
4 C kimchi with liquid
8 T oil
2 lbs pork, cubed
1 T maple syrup 
4 C chicken broth
1-3 T gochujang
1 lb firm silken tofu, cubed
1 large bok choy, stems and leaves separated and sliced
2 T toasted sesame oil
Soy sauce, salt and green onions to season
----

Strain the kimchi over a bowl, reserving the liquid, for 10 minutes.
Heat oil in a large pot and cook meat in two batches over medium -high heat. Turning as necessary until golden brown, about 8 minutes per batch, remove from pan and set aside. Add drained kimchi and maple syrup to the same pot, scraping up brown bits, for 15 minutes or until kimchi is slightly dry and darkened. Add kimchi juice, chicken stock and 1 T gochujang, add pork.
Cover, reduce heat to low and simmer for 60-90 minutes or until very tender.
Add tofu, bok choy stems, and sesame oil and cook until stems are crisp-tender.
Season with additional gochujang, soy sauce, salt, and stir in bok choy leaves.
Serve over rice with thinly sliced green onions.
Modern Potluck, Kristin Donelly