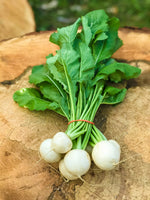 Here on the Farm spring means light and fresh meals, and this Sauteed Bok Choi & Sugar Drop Radish recipe is just that. It's quick to whip up and served with rice makes a perfect spring meal.
Sauteed Bok Choi & Sugar Drop Radishes

1 T oil
2 T ginger & 1T garlic, minced
3 green onions or ¼ white onion
2 bok choi, trimmed and halved lengthwise                         
1 bunch sugar drop radishes (aka. hakurei turnips)
2 T water
¾ t salt 
½ t sesame oil
---
Heat oil in a large skillet over medium heat. Add ginger and garlic; cook, stirring constantly, until soft and just starting to brown, about 3 minutes. Add bok choy, turnips and hot pepper. Add water and salt. Cook, stirring frequently, until the bok choy and turnips are tender, 5 to 7 minutes. Drizzle with sesame oil before serving.
*
www.eatingwell.com/recipe/7892052/sauteed-bok-choy-hakurei-turnips/