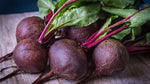 Roast Beetroot Falafels with Tahini Sauce
2 beetroots
2 garlic cloves 
2 C cooked chickpeas 
1 handful fresh cilantro (optional) 
1 T ground coriander 
1 t cumin 
1 t salt  
½ C tahini 
¼ C water 
2 T apple cider vinegar or lemon juice
1 t coriander 
1 clove garlic, crushed 
-
Roast beets: peel and chop into cubes, roast for 35-45 minutes at 400.  Let cool slightly. 
Add beets, 2 garlic cloves, chickpeas, cilantro, coriander, cumin and salt to a food processor and blend until everything has broken down. Add water or olive oil if too crumbly. Roll the mixture into balls and press lightly into mini patties. Grill on medium 8 min/ side or bake in the oven at 375 on an oiled pan for 25-30 min, flipping halfway. 
Blend together tahini, water, ACV, salt, coriander and garlic in a blender or with a spoon. Serve over falafels.
www.kindearth.net/easy-tahini-sauce-for-falafel-or-veggie-burgers