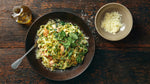 With the warmer spring weather our minds turn to light and bright flavours, savured outside with family & friends. This recipe is perfect for a quick weeknight dinner, or serve cold on a picnic!
Spring Pasta with Salmon, Peas & Dill
Serves 6-8
12 oz. salmon fillets, skin removed
1 t whole coriander, crushed
1 lb. short pasta of choice
8 oz fresh or frozen English peas
4 T unsalted butter, cut into pieces
½ yellow onion, chopped
1/2 C dry white wine
3 T fresh dill, torn
Salt & pepper to taste
----        
Preheat oven to 350°F. Lightly grease small baking sheet. Season salmon with coriander, salt & pepper. Roast until cooked through, 13-15 min. Transfer to a plate. Cool completely, then flake into large pieces.
Meanwhile, cook pasta according to package directions, adding peas during last 1 (if using frozen) to 4 (if using fresh) minutes. Reserve 1 cup cooking water; drain. Return pasta to pot.

Melt 2 T butter in a large skillet over medium heat. Add onion, season with salt & pepper. Cook, stirring occasionally, until tender, 6-8 min. Add wine &cook until syrupy, 3-4 min. Add pasta & 1/2 C reserve cooking water. Bring to simmer. Remove from heat & stir in remaining 2 T butter (adding additional cooking water if needed to create a sauce). Gently fold in dill & salmon.