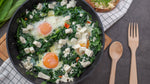 This recipe will get your mouth watering for all the fresh spring vegetables that you'll find in the Farm Store on opening weekend. The beauty of this recipe is that you can use whatever greens you have on hand - spinach, arugula, kale, swiss chard, turnip and beet greens, or bok choi.
Green Shakshouka Recipe

2 T butter or olive oil
3 green onions, thinly sliced
1 t cumin
1/2 t dried chili pepper
4 C greens of choice, chopped and destemmed if necessary
3-4 T pesto (basil or arugula)
4 eggs
Sprinkle of feta
Fresh dill
---
Add butter to a pan on medium heat. Add the green onions, cumin, chilli pepper, salt & pepper. Cook for 3-4 min until greens have softened. Add greens, cover & cook for another 3-4 min until greens have wilted, stirring occasionally.
Add 2 T pesto & mix into the greens. Using a spatula, create 4 divots in the greens. Crack an egg into each divot, cover & cook for 5-10 minutes until the whites are completely set. Keep an eye on the eggs closely so you don't overcook.
When eggs have cooked to your liking, drizzle on another tablespoon or two of pesto, sprinkle with some feta & top with a little extra chilli pepper & fresh dill.