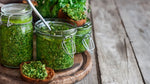 Is it even summer if you don't make pesto?! We don't think so! With just a few simple ingredients you can bring the taste of summer into your kitchen. Why not make an extra large batch and freeze it to enjoy over the winter?
Basil Pesto Recipe
1 bunch of basil, stems removed
⅓ c raw sunflower seeds
2 garlic cloves, or 2 garlic scapes, or 1 tsp garlic powder.
1 T lemon juice
Salt & pepper
⅓ cup olive oil
    -
Add all ingredients to the food processor, except for oil. Start the food processor and drizzle the olive oil slowly.
Basil pesto is delicious on pasta, as a spread on sandwiches, or as a dip for bread and veg. Or, add it to this delicious salad dressing and drizzle it on top of all your favourite Farm Fresh veggies.
Pesto Miso Yogurt Dressing
3 T pesto
5 T plain yogurt
2 T miso
3 T water
1 T lemon juice or apple cider vinegar
1T maple syrup or honey
3 green onion, chopped
    -

Mix it all by hand, or triple the quantities and mix in a blender. Add a bit of water to adjust consistency.
    -
Use as a dressing on a Baby kale mix salad, or massaged chopped leaves of kale.
Use as a marinade for tofu or chicken.