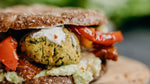 It's summer, and that calls for burgers! This recipe is one of Jolianne's favourites and along with a veggie filled salad, makes a perfect al fresco summer meal!
Veggie Pate Burger
1 ¼ C sunflower seeds
2 C grated beets
¼  C oil
3 T tamari
½ C water (less if pre-soaking the seeds)
3T herbs (sage, thyme or parsley)
3T apple cider vinegar or lemon juice
½ C of sliced green onions
½ C nutritional yeast
¼ C flour
Salt, Pepper, & cayenne pepper
    -
Blend everything together until very smooth.
Bake in a greased 8x10 pan for 45 min @ 350 degrees.
Slice into desired size and enjoy!
Baby Kale Salad with Miso Roasted Sugar Drop Radishes & Fennel
1 bunch sugar drop radishes  - rinsed, well dried, & halved
1 head fennel - sliced lengthwise in 6 from top to bottom
4 T miso paste
4 T olive oil
Coarse sea salt & freshly ground black pepper
    -
Whisk together miso and olive oil
Spread the turnips and fennel on a baking sheet. Drizzle with the miso olive mix.
Bake for 15 minutes, rotating the veggies halfway through.
Let cool before mixing with baby kale mix or any other greens.Top with a simple salad dressing of olive oil, apple cider vinegar, and maple syrup.
*Note - ingredients marked in bold are available in the Farm Store*
    -
To Soak or Not To Soak: Soaking nuts, seeds & grains



Jolianne likes to soak all nuts, seeds and grains before using to remove some of the phytic acid, a naturally occurring plant substance which can decrease the body's ability to absorb minerals and nutrients. When you soak your seeds overnight you can remove some of the phytic acid, and when you soak grains and legumes (like quinoa, millet, rice, and lentils) you get the added benefit that they cook faster. Soaking sunflower seeds before blending makes for a super smooth butter, which is the perfect base for making a creamy salad dressing.
Note: If you choose to soak the sunflower seeds in this recipe you will need much less water to blend.